Do you like blondes? I do. Well, each one admires blondes, their lifestyle and sexual atmosphere they award you. The next blondie cars were grouped up to please your eyes.
1. The 1951 Mercury Coupe was a favourite car of our blondie grannies. It still outlooks bright and cool among these retro car stuff. If I were a blondie girl I would purchase one for my collection *)).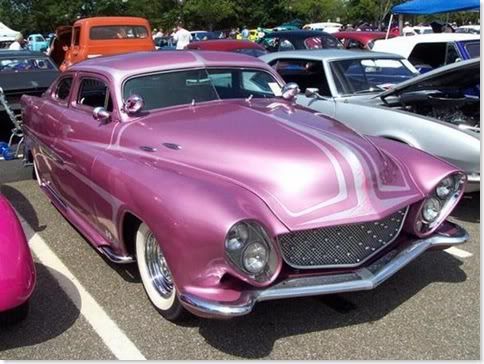 2. This fuchsia car with flames on the trunk will remember you about your childhood. Didn't you have one like this in that period? Possibly, the mistress eyes are violet with some fire inside and now let's imagine such blonde lady on the roads. Scary?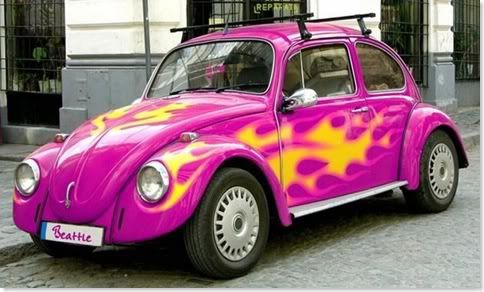 3. Once upon a time, there was a man who liked tanga pants and… blondes. He was sad about the color of his car but he decided to correct this terrible situation. Then he went to a tailor and asked him to sew a pair of pants for his iron girl…
His pretty iron girlfriend tried the tanga pants to please its master.
Now the girl makes everyone admire and even sometimes shocks. It seems to me they both are glad.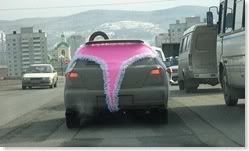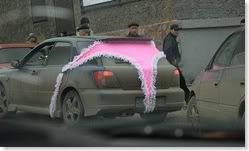 4. Aren't you fan of the Pink Panther? This car reminds one about the pink panther. The lovely thin design is a right place for an anorexic blonde mistress and the auto runs fast enough as well. Possibly, if you ever see this car on the roads of your city you can hardly understand what was the noice behind you.
5. Some girl asked herself once: "What is the car for if I can't run it well?" However, she decided not to throw it out and made a …rose bed of it. Now it looks too lively, too lovely and too helpless.
6. And this sample is for those who are mad about handmade stuff. If you have some metal and tires by hand then it won't put you into much trouble to construct one. Then don't forget the classic pink color while painting your future creation. The speed and other characteristics are of no value…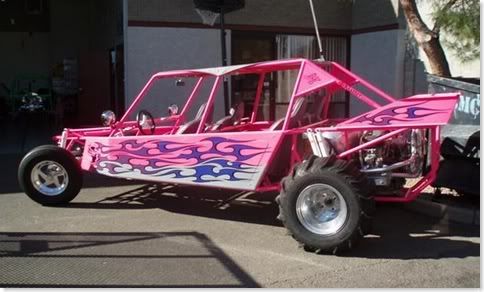 7. This Hummer is the suitable car for those who love mountains, trips and adventures. And, especially, for those whose hair color is natural blonde.
Some blondes prefer gentlemen …oh no no really. Some gentlemen prefer hot blondes at the weel of such blonde hummers.
8. Did you ever see pink zebras? And three-wheel zebras? Ok, you must fall in love with it at first blush. It seems sometimes, the three-wheel vehicles are in great fashion now.
Seriously, if I had more money I would put up one immediately.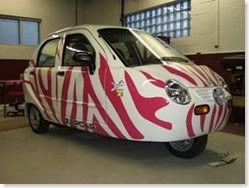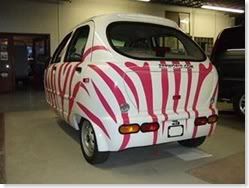 9. The following car is dedicated to all graffitti keens. This car won't let you feel an outsider in any street art district. If you see such a masterpiece don't you feel like adding one more signiture onto it?
The vehicle is just for graffitti blondes who appreciate real men and not only them.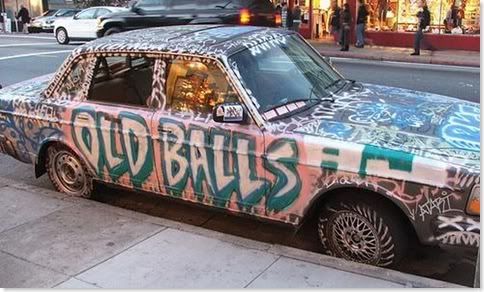 10. One more retro car, Ford Sedan, 1937, was included in the topic. Maybe its mistress was a blonde lady looked like Jean Harlow and overcame many men when driving this pretty auto. And, maybe, this color was in fashion during those times. Who knows? The car outlook is still mysterious and glamorous.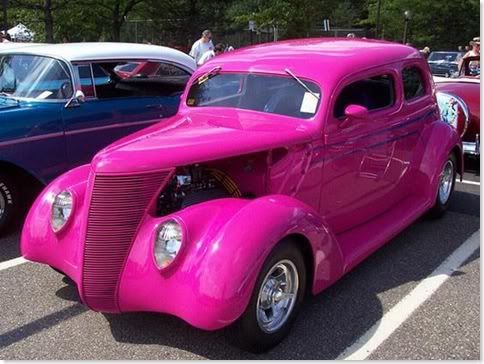 11. If you are a real romantic person then you can't resist admiring the next auto.
With such a pretty lady at the wheel the car can take the right place wherever it is. It is fast, gloss and has a true romantic sight behind.
The car was shot in one of motoshows and we could pass by indiffirently … unless it has such an outsanding tailpipe.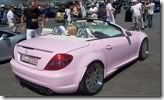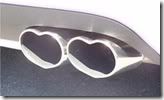 12. How do you feel about Brazilian carnival? Ready? Go!
Hello people this car tends to be the one to bring you to any place where people appreciate optimistic mood and … the blondie families. Guess, the car masters didn't get sufficient place to put all baby toys inside. But this auto is a welcome guest everywhere it can get fun!
13. One anime cartoon fan decided to get into this topic with the next sport car. Well, anyone can't guarantee the attention of master's car girlfriend or boyfriend but the kids must be in a great delight.
14. Another pink anime vehicle. It seems to me nowadays autos use so much anime patterns that you needn't TV any more, sure, if you watch only anime cartoons on it. But, still, this stuff looks glam and shiny. Let's keep the fingers crossed for the car will find a mistress with whom it will be in great harmony.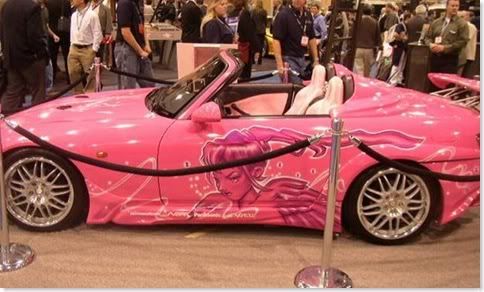 15. Are you keen on golf? Are you a blonde girl? This car is just for you. Believe, if you appear in the golf field each man forgets about his game. You will be in the center of the game even you are out of the field. Such an auto can't help taking much attention. Moreover, if you are not a blonde-haired woman, then color your hair as soon as possible.
16. The retro fuchsia Fiat 500 car attracts many glances when you see this beauty nearby. Doesn't it look screaming and decorate the gloomy streets of the town? Eh, nevertheless, the car is now just a piece of history.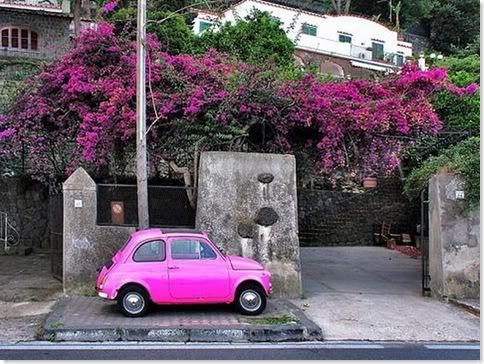 17. The next nice miniature car must be run by only miniature nice girl, perhaps, with the fair hair color. The vehicle runs fast and its color makes blind everyone around. If you are not struck with the car color then take a look at its lady.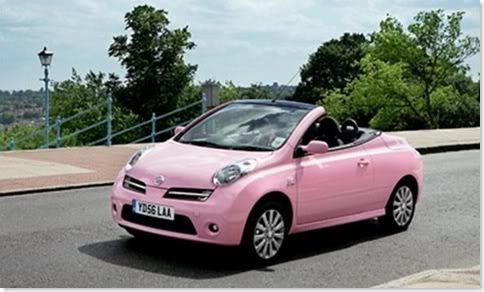 18. Need a taxi? There's a taxi service only for women in Britain. Maybe, the cabmen are not men but women with curly blonde hair. It attracts so much attention that, perhaps, no policemen could stop such a vehicle. And a woman inside will be very glad 'cause she gets much more attention than she does in reality.
The service chose Renault for the romantic cab.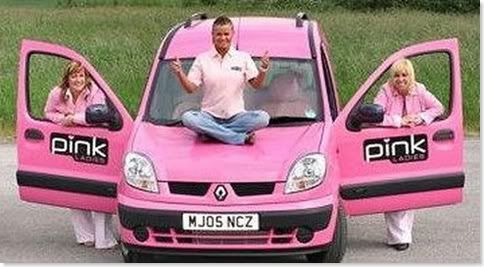 19. The Bathing Ape Company, Japan, decided to make the advertisement by painting Bugatti Veyron. It has such a glamorous color that you can't help looking inside and find a pretty blonde lady within. If your hair color is not blonde then you'd better off this car.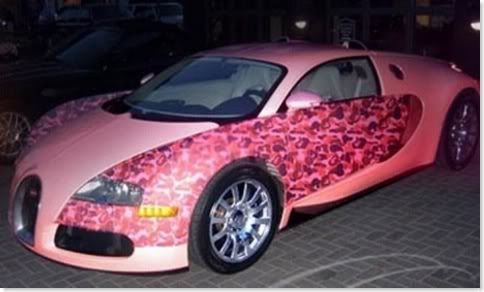 20. This car is right for Barbie and her boyfriend Ken. Some people really call Miatas "girlie cars". On St. Valentine's Day, the pretty couple, together with their vehicle, will have a lot of fun. It looks fast, comfort and compact, and the color is like the blush on Barbie's cheeks.